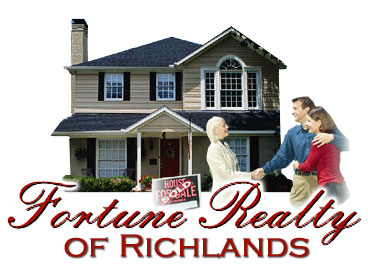 At Fortune Realty we offer you the service you expect and deserve for all your real estate needs in Tazewell, Russell and Buchanan County. Whether you want to find the home that is perfect for you at the right price or sell your home for the highest possible price in the shortest amount of time - we are your agency.

Fortune Realty's marketing strategies include:

- Free market analysis
- Place listing on the MLS
- Advertise in Real Estate Guide
- Place listing on the company site
- Qualify all prospective purchasers
- Promote property to office associates
- Answer all ad and sign calls immediately
- Data and feature sheets done on all properties
- Advertisement in local newspaper of tri-county area

Fortune Realty is locally owned and independently operated by Alita Whited, Broker. The business was started in 1987 by Boyce Fortune. Alita Whited became a Sales Associate in January of 1988 with the agency. Alita took the agency over in 1989 when Ms. Fortune relocated. Alita and her husband, David, are lifetime residents of the area.
Our broker and agents are in the office five days a week. We are available on weekends and evenings to show properties or to list properties. We will make every effort to accommodate your schedule. We work as a team at Fortune Realty. If one of the agents is unavailable we will refer you to another agent who can better accommodate you.

At Fortune Realty we do not claim to be number one, but we promise to give you the best exposure and service available to sell your real estate. We also promise to act in a professional manner with absolute integrity and honesty.